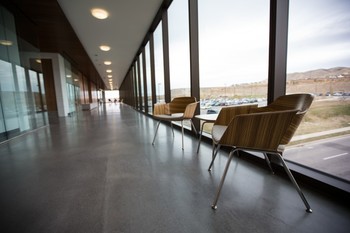 Kwekel Services, LLC are experts in epoxy coating, sealing and painting floors. Whether you're looking for decorative concrete flooring, protective epoxy coatings for your concrete garage floor or simply want to experience the ease of low-maintenance that epoxy concrete floor coating offers, call (844) 288-9114 today to discuss how we can help you achieve a new, beautifully coated concrete floor. Kwekel Services, LLC has specialized in coating concrete floors for homeowners and businesses since 1986.
Protect & Shine!
No other surface of your home or business takes more abuse than your floors, and your garage floors get the worst of it. That is why it's so important to provide your floors with the right protection! Kwekel Services, LLC can help you choose the best epoxy coating or paint products to properly seal your concrete floors from any damage. Not only are sealing your concrete floors affordable but when your floors are properly sealed, concrete floors can be easily cleaned with a quick pass of a damp mop!
Why Coat Your Concrete Floor?
Do you live in an area with lots of sand or snow? Do you suffer from allergies that can get trapped in those hard-to-keep-clean carpet floors? Kwekel Services, LLC can provide you with an affordable, low maintenance alternative by coating the surface of your concrete floor! Just some of the benefits of concrete floor coating include:
Sustainability

Easy Care

Long-lasting Versatile

Attractive Affordable
Call (844) 288-9114 for a free quote!